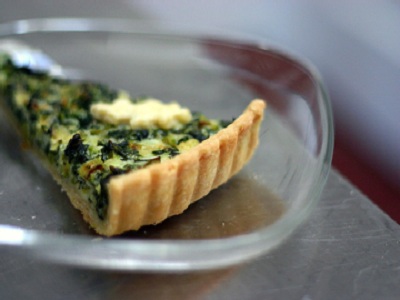 Recipe by
www.yummly.com
Fresh spinach and a prepared pie shell are shortcuts that make this savory spinach and cheese quiche a family-friendly weeknight main dish.
Ingredients
1 refrigerated pie crusts (9 inch)
3 tbsps OLIVO,5 Extra Virgin Olive Oil
1 onion (thinly sliced and quartered)
1 cup spinach (frozen chopped, thawed and drained)
8 eggs
1 clove minced garlic
1 tsp dried thyme
1 tsp dried basil
2 tbsps pecorino romano cheese (grated)
1 cup shredded mozzarella cheese
salt
black pepper
Procedure
Preheat oven to 175 degrees C. Bring the pie crust to room temperature.
Heat the olive oil in a skillet over medium heat; add the onion and cook until onion becomes transparent, about 5 minutes.
Combine the spinach with the onion, cover the skillet; turn off the heat, and set aside.
Unroll the crust and press to fit into a 9 inch pie plate. Trim the edges.
Beat the eggs in a large bowl until light colored and frothy.
Add the garlic, thyme, basil, cheeses, and spinach mixture, and stir until well blended. Season to taste with salt and pepper. Pour the spinach mixture into the prepared pie crust.
Bake in preheated oven until the top is golden brown, and an inserted tooth pick comes out clean, about 50 minutes.
content


Extra virgin olive oil has not been chemically processed and does not contain any preservatives.
Extensive research has proven the cardio-protective and anti-cancer activity of olive oil.
Olive oil carries exactly the same caloric content as other types of oils.
Olive oil is the only oil that withstands more on heating and frying.
Olive oil helps to reduce the influence of alcohol.
Add olive oil at the end of the cooking process. This way it preserves its flavor and aroma better.
Olive oil can contribute effectively to combat hair loss and dandruff.
The method of olive oil storage constitutes an important factor in preserving its quality.
Olive oil is a natural solution to reduce the appearance of stretch marks during and after pregnancy.
Olive oil is the best dietary option for the diets of children, helping their proper growth.