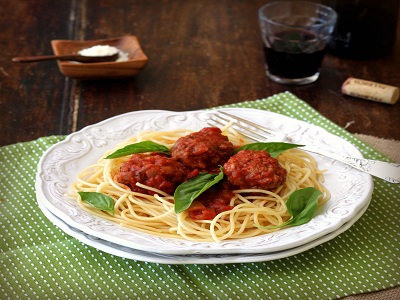 Recipe by
www.yummly.com
This is a simple and basic recipe for spaghetti and meatballs - very kid friendly!
Ingredients
1 finely chopped onion (1/3 cup)
1 clove garlic (minced)
coarse salt
black pepper (freshly cracked, taste)
1 lb lean ground beef
1 egg
1 tbsp worcestershire sauce
1/4 cup breadcrumb (fresh)
1 finely chopped onion
4 cloves clove garlic (minced)
coarse salt
black pepper (freshly cracked, taste)
56 ozs crushed tomatoes
1 tbsp sugar
2 bay leaves
2 lbs spaghetti
1/2 cup parmigiano reggiano cheese (freshly grated, taste)
3 tbsps OLIVO,5 Extra Virgin Olive Oil
Procedure
MEATBALLS:
Preheat oven to 350 degrees F& line a large baking sheet with parchment paper.
Heat a small saute pan over medium-high heat and heat the olive oil until shimmering.
Add the onion, garlic, salt and pepper and saute for 3 minutes, or until the vegetables have softened.
Remove from heat and cool completely.
Combine the cooled onion mix, ground beef, egg, Worcestershire sauce, breadcrumbs, salt and pepper in a medium bowl.
Mix gently until just combined.
Using wet hands, form mixture into 24 balls.
Transfer meatballs to the baking sheet.
Bake meatballs in the oven for about 15 to 20 minutes or until meatballs are browned and cooked through.
Shift the pans in the oven halfway through cooking time to ensure even browning.
SAUCE:
Meanwhile, heat the olive oil in a large Dutch oven (or medium stockpot) over medium heat.
Add the onion, garlic, salt and pepper.
Saute vegetables until soft, about 5 minutes.
Add the crushed tomatoes and juice, sugar, salt, pepper and bay leaves.
Bring to a boil.
Reduce heat to medium low and simmer until sauce thickens, about 1 hour.
Gently stir meatballs into sauce.
Bring sauce and meatballs to a simmer.
SPAGHETTI:
Cook spaghetti in a large pot of boiling salted water, according to package directions, until just tender but firm to the bite.
Drain and move onto serving platter.
Spoon the sauce and meatballs over the pasta.
Sprinkle with Parmesan cheese and serve.
content


Extra virgin olive oil has not been chemically processed and does not contain any preservatives.
Extensive research has proven the cardio-protective and anti-cancer activity of olive oil.
Olive oil carries exactly the same caloric content as other types of oils.
Olive oil is the only oil that withstands more on heating and frying.
Olive oil helps to reduce the influence of alcohol.
Add olive oil at the end of the cooking process. This way it preserves its flavor and aroma better.
Olive oil can contribute effectively to combat hair loss and dandruff.
The method of olive oil storage constitutes an important factor in preserving its quality.
Olive oil is a natural solution to reduce the appearance of stretch marks during and after pregnancy.
Olive oil is the best dietary option for the diets of children, helping their proper growth.