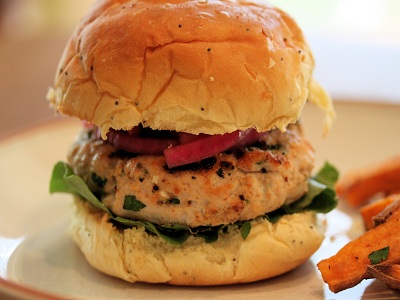 Recipe by
www.yummly.com
Spice up boring turkey burgers by creating incredible flavor with exotic spices and herbs. Enjoy on a toasted bun with desired fixings and spiced mayonnaise!
Ingredients
2 tsps OLIVO,5 Extra Virgin Olive Oil
1 tbsp minced garlic
1/2 tsp gingerroot (minced fresh)
1 jalapeno pepper (seeded and diced very fine)
1/2 red onion (diced very fine)
1 lb ground turkey (lean)
1/4 cup fresh cilantro (finely chopped)
1/2 tsp kosher salt
2 tbsps low sodium soy sauce
1 1/2 tsps black pepper (fresh ground)
1 1/2 tbsps paprika
1 1/2 tsps ground mustard (powder)
1 tsp ground cumin
1/2 tsp worcestershire sauce
Procedure
Heat olive oil in non-stick skillet until shimmering.
Add garlic and ginger, and stir until fragrant, 30-60 seconds.
Add jalapeno peppers and onion, and saute until peppers and onions are slightly softened and onion is translucent, 3-5 minute Transfer to a mixing bowl.
Add the ground turkey, cilantro, salt, soy sauce, black pepper, paprika, mustard, cumin, and Worcestershire sauce. Form the mixture into 4 burger patties.
Cook on a grill heated to high, or under a broiler, 5-10 min per side, until done. Serve with toasted hamburger buns.
content


Extra virgin olive oil has not been chemically processed and does not contain any preservatives.
Extensive research has proven the cardio-protective and anti-cancer activity of olive oil.
Olive oil carries exactly the same caloric content as other types of oils.
Olive oil is the only oil that withstands more on heating and frying.
Olive oil helps to reduce the influence of alcohol.
Add olive oil at the end of the cooking process. This way it preserves its flavor and aroma better.
Olive oil can contribute effectively to combat hair loss and dandruff.
The method of olive oil storage constitutes an important factor in preserving its quality.
Olive oil is a natural solution to reduce the appearance of stretch marks during and after pregnancy.
Olive oil is the best dietary option for the diets of children, helping their proper growth.