WHO WE ARE IN A NUTSHELL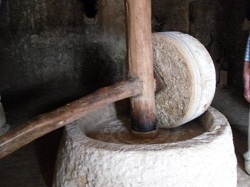 Our heritage is strongly related to the production of premium quality olive oils. A family of olive millers with longstanding experience in the field has joined forces with a team of young professionals experienced in production, logistics, quality assurance and marketing, to bring to your door, the world's finest goods. Successful operation has opened our horizons to incorporate new products and ideas.
Stay tuned to find out more about our constantly expanding product range.
content


Extra virgin olive oil has not been chemically processed and does not contain any preservatives.
Extensive research has proven the cardio-protective and anti-cancer activity of olive oil.
Olive oil carries exactly the same caloric content as other types of oils.
Olive oil is the only oil that withstands more on heating and frying.
Olive oil helps to reduce the influence of alcohol.
Add olive oil at the end of the cooking process. This way it preserves its flavor and aroma better.
Olive oil can contribute effectively to combat hair loss and dandruff.
The method of olive oil storage constitutes an important factor in preserving its quality.
Olive oil is a natural solution to reduce the appearance of stretch marks during and after pregnancy.
Olive oil is the best dietary option for the diets of children, helping their proper growth.